Error 30-05: Calibration data not found
1. Check the software version that your meter is currently running (Settings -> About -> Analyzer Information -> Version).
2. If you are running software version 2.0.3.418, please update your software.
Software version 2.0.3.418 will be discontinued in 2024, as it carries old algorithm data for malic acid that has now been superseded by a new model. *
If you do not update your software from 2.0.2.418, then you will receive the below 30-05 error message at the Result screen when testing for malic acid with strips manufactured from January 2024 and onwards.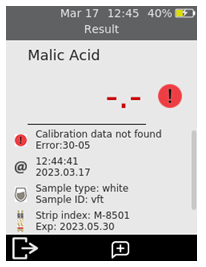 *New malic acid algorithm data present in software versions 2.1.0.435 and beyond (introduced July 2022).